Aluminium Casement door&window
Product Detail
Feedback now
Aluminum Casement door & window
Aluminum Casement door &window is a style of windows and doors. The sash opening and closing is moved along a certain horizontal direction, so it is called "casement window and door". Casement window and door is divided into push-pull type and top-hung type. Its advantages are large opening area, good ventilation, good air tightness, excellent sound insulation, heat preservation and impermeability. The inside-opening window cleaning is convenient; the outside-opening does not take up space when opened. In ChangYuan aluminum, the top-hung window is an aluminum alloy window that has only recently appeared. It is a new form developed on the basis of casement windows. It can be opened in two ways, either flat or pushed from below. When the casement window is closed, a gap of about ten centimeters can be opened by pushing the lower part of the window outward, that is, the window can be opened a little from below, and the opened part is suspended in the air, and is fixed to the window frame by a hinge or the like. Called top-hung.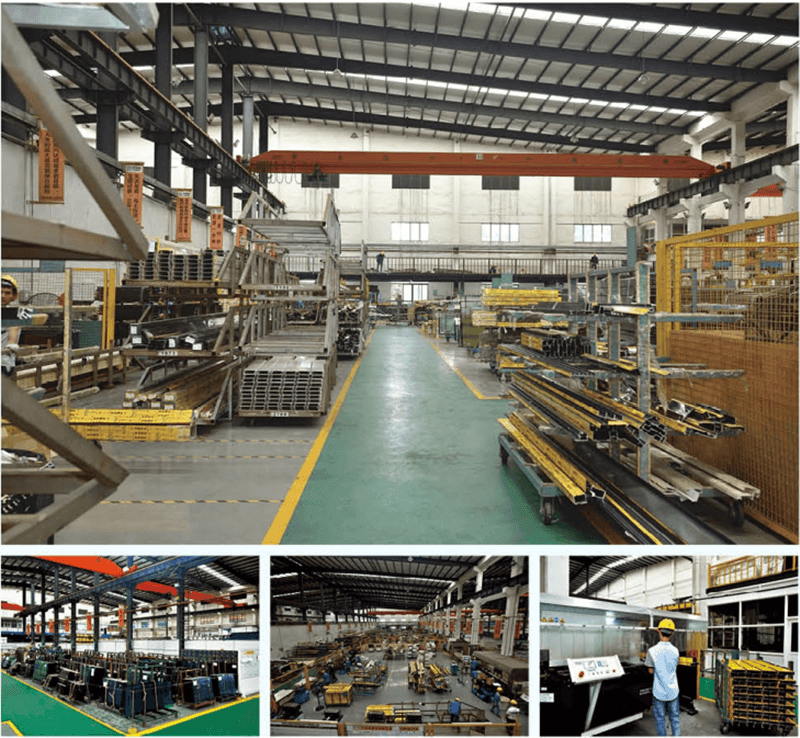 Aluminum Profile:
Aluminum alloy: 6063-T5, thermal-break, non-thermal-break
Thickness: 1.4mm-2.0mm, customized
Surface Treatment: Customized (Powder coated/ Electrophoresis/ Anodizing etc).
Color: White/Champagne/ Grey/Wood grain//Green/Silver
Style:
(1) Casement window & door (2) sliding window & door
(3) Folding window & door (4) Awning window
(5) Arched window & door (6) Tilt&Sliding window & door
(7) Tilt&Turn window & door (8) French Door
Glass:
Type: Low-E/Reflective/Tempered/Floated/Coated
Single glazing: 4/5/6/8/10/12/15/19mm etc
Double glazing: Clear, Laminated, Low-E, Tempered
5+12+5mm Clear Glass/6+12+6mm Tinted Glass/5+0.76PVC+5mm Laminated Glass

6+12+6mm Low E Glass/6mm+1.14PVB+6mm+16A etc
Triple 5mm+9A+5mm+9A+5mm
Hardware:
1) Chinese Top Brand
2) International Famous Brand
3) Flexibly open and firmly riveted
Surface Treatment:
Power coating, Anodizing, Over laminate, Electrophoresis
Size:
Customized
Color:
Customized
Sealing:
Ternary ethylene propylene rubber sealing strip
Other parts:
Mosquito net/Stainless steel screen/Inside blinds/Grid
Application:
Residential houses, Condominiums, Hotels, Offices, Villa
Packaging:
1. Standard export carton package
2. Wooden or iron pallets
3. With film outside
4. Customized
Guarantee:
10 years
Wind Pressure Performance
≥5.0 kpa GB/T7106-2008/9 class
Air Permeability
≤0.5 m3/(m. H) GB/T7107-2008/8 class
Rain Water Permeability
≥700 PA GB/T7108-2008/6 class
Air Noise Performance
45dB GB/T8485-2008/6 class
Good Insulation Performance
≤1.0W/(m2. K) GB/T8484-2008/10 class
Shading Performance of SC
≤0.2 GB/T2680-2008/7 class
Comparison of sliding window and casement window
Casement window is better than sliding window in performance, but sliding window is better than casement window in processing and operation. For this reason, casement windows are widely used in mid-to-high-end buildings such as commercial and residential buildings, office buildings, high-end residences, and villas in cities; sliding windows are widely used in mid- and low-end buildings such as industrial plants and rural houses. Aluminum alloy doors and windows are classified according to their opening methods. The more popular and practical window types on the market are sliding windows and casement windows. Casement windows are hinges (hinges) installed on doors or windows that open inward or outward on the sides of doors and windows; sliding doors and windows mainly refer to windows and doors that are vertically pushed left and right along the horizontal direction. Comparison of push-pull and casement using the same glass and fittings. Each has its own strengths, and its respective characteristics are discussed in detail in terms of the appearance, performance, price, and use functions of doors and windows.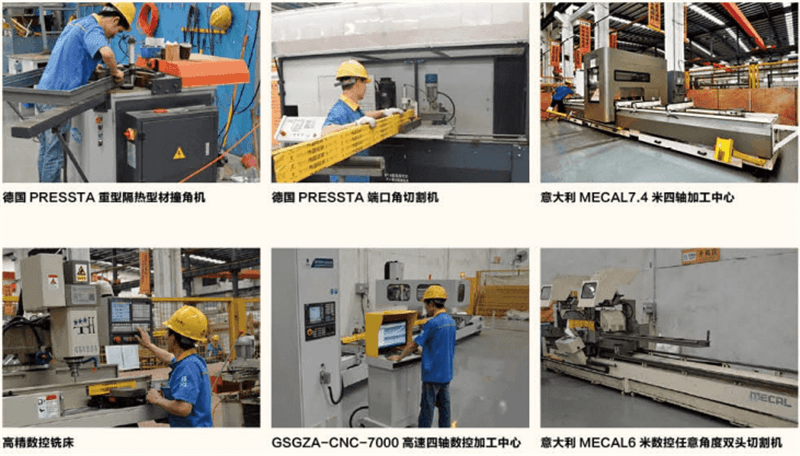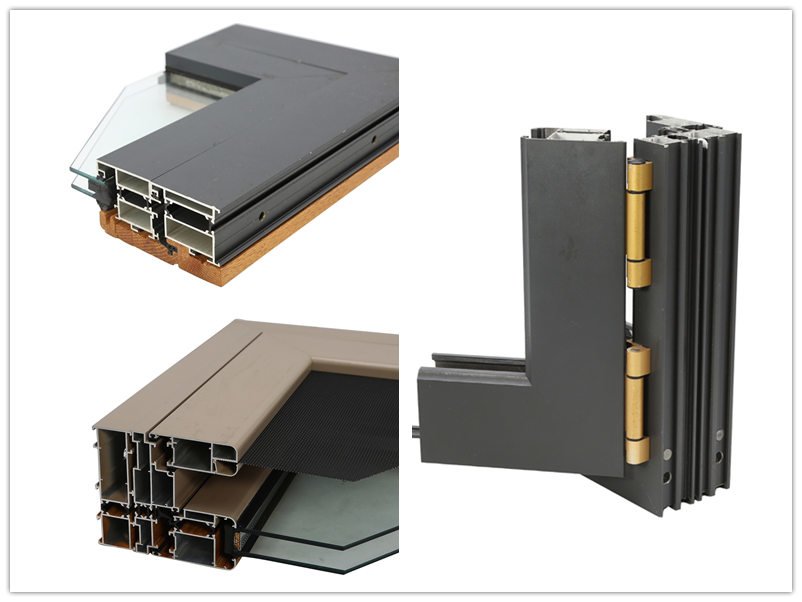 The difference between a casement window and a sliding window in appearance is mainly in combination with the overall style of the building. The casement window is more flexible because of its division, and can be used to make any line of facade effect. For floor-to-ceiling windows, the opening fan only takes up a small part of the whole window, so it is more suitable for high-end real estate with strict requirements on the overall effect of the building, and it is especially in line with the large grid, spacious, bright and transparent effects sought by the architect Good, well coordinated building. The sliding window can only be horizontally pushed and pulled, so it is difficult to match the fixed glass of the large grid. Generally speaking, it is more suitable for opening factories or rural family buildings with clear lines.
Advantages of aluminum casement door & window:
Casement window is divided into push-pull type and top-hung type. Its advantages are:
large opening area, good ventilation, good watertightness, high airtightness, strong resistance to wind pressure, heat preservation, sound insulation, heat insulation, energy saving and consumption reduction, and excellent permeability resistance.

The inside-open and inside-down windows are more convenient to clean, and the upper floors are not affected by gravity;

the outside casement windows do not occupy indoor space when opened.

Today's casement windows have developed like the sky, the most representative is the thermal break broken bridge aluminum casement window. Broken bridge aluminum casement window is more systematic and personalized, and can be made into a large window type. It can be used as a multi-segment fixed window + opening fan. It is a window designed for multifunctional needs and high-end residences.

Improve security: When the window is tilted inside, the window is open and ventilated. At the same time, it is very safe and has anti-theft performance compared with the casement window.

Good sealing and thermal insulation performance: Through multiple points of locking around the window sash, the sealing and thermal insulation effect of doors and windows is guaranteed.

The external top-hung window is operated by the handle of the sash, which drives the corresponding movement of the hardware actuator, so that the sash can be flattened to the room or poured down to open the room at a certain angle for ventilation.
Quality:
CE certification, SGS, ISO9001, ISO14001 and RoHS authentication

Application:
Tall building , house, apartment, office area, and indoor area, Villa
Our advantages:
Changyuan aluminum has these advantages:
Over 30000 sets molds on site

More than 400 employers

Two production cover extrusion, melting, anodizing, electrophoresis and powder coting

All the aluminum materials are make by our factory, control the quality from the beginning.

Have good partnership with the other glass and accessories factory