Aluminium extrusion iprofayile ekubiyweni
Iinkcukacha Product
Ingxelo ngoku
Aluminum extrusion profile for framing
When it comes to aluminum alloy profile frames, many people may think of aluminum alloy doors and windows. In fact, beside the aluminum alloy doors and windows, there are many products with aluminum profiles. Here in ChangYuan Aluminum we come to find out:
The border of solar panels

.

With the rise of photovoltaic power stations

,

the amount of photovoltaic solar borders is also very large

,

and most of the solar borders are made of aluminum alloy

,

aluminum alloy grade 6063-T5

,

which is also most industrial aluminum profiles

.

And construction aluminum profiles

.

There are many frame specifications for solar panels

,

and the cross-section dimensions of

35 * 35 yaye 40 * 35

are more used

.

Of course

,

in addition to solar panels for photovoltaic power stations

,

and small panels for street lamps

,

aluminum frames are also required

.

The cross-sectional dimensions of this aluminum profile are much smaller

.

The frame of electrical appliances

.

Nowadays

,

the popular frameless TV has a middle frame

,

but it cannot be seen from the front

.

This middle frame is made of aluminum

.

There are also refrigerator doors

,

some mobile phone frames

,

and other aluminum profiles

.

The frame of the exhibition board

,

such as the frame of posters

,

the frame of white boards

,

these aluminum frames are generally small

,

and the surface is silver and white

.

The most representative of the frame of the light box is the aluminum profile of the open ultra-thin light box frame

.

It is an aluminum frame product composed of two aluminum profiles plus a spring sheet

.

The advantage of this frame is that it can be easily opened and replaced with a billboard when it is installed

.

Other frames

,

frames of some glass products

,

aluminum frames with heat dissipation function

, njl.,

and more aluminum profile frames are under development

.
Inkcazo yemveliso:
| | | |
| --- | --- | --- |
| 1 | Uhlobo lweshishini | Umenzi |
| 2 | Imigangatho: | I-GB 5237-2008; EN755, njl., |
| 3 | Uthotho lwemveliso: | Iprofayile yeAluminiyam yokwakha kunye nezinto zeshishini. |
| 4 | Ixabiso: | Ngokusekwe kwixabiso leNanhai Aluminium Ingot(http://www.lvdingjia.com/) + Imali yokuqhubekeka |
| 5 | Ixesha lokuhlawula: | T / T., L / C kwimbono |
| 6 | Unyango oluphezulu: | Mill gqiba, Ukuhlaziya, Ukutyabeka umgubo, Umbane, Ukugqitywa komthi, Ukuthuka ngobushushu |
Ukucaciswa:
| | | |
| --- | --- | --- |
| 7 | Ingxubevange: | 6063 |
| 8 | imeko: | T4 / T5 / T6 |
| 9 | ubude | 1m-7m, ngokubanzi i-5.85m yesikhongozeli |
| 10 | Ubungakanani obuqhelekileyo be-Anodizing: | UMLINGANISELO >10 encinci, |
| 11 | Ukuqina komgubo oqhelekileyo: | >40encinci |
| 12 | ubukhulu: | 0.4mm 0.5mm 0.6mm,0.8mm,1.0mm,1.2mm,1.4mm,2.0mm,3.0mm,4.0mm njl.. |
Olunye ulwazi
| | | |
| --- | --- | --- |
| 13 | Ixabiso | Ixabiso le-NH / LME yamabanga aphantsi + iindleko zokuguqula ezona khuphiswano |
| 14 | Nkqubo zomngundo | Into nganye ethengiweyo yevolumu iya kwi 1 iitoni, ukubuyiselwa kwemali yentlawulo |
| 15 | Ixesha lokuhanjiswa | ngaphakathi 20 Iintsuku ukusuka kwixesha loku-odola |
| 16 | Ixesha lokuhlawula | 30% idiphozithi, intlawulo eseleyo kwi-B / L ikopi ngaphakathi 7 iintsuku |
| 17 | Ukupakisha umgangatho | ifilimu yokukhusela ngaphakathi, ifilimu engaphandle yokuncipha okanye iphepha elingqingqwa |
| 18 | Isiqinisekiso | I-SGS / TUV - I-ISO9001:2008 - ISO14001:2004 I-CE RoHS |
| 19 | Ukusetyenziswa | Isilayidi, indawo yokuhlala, iifestile, iingcango, udonga lomkhusane, ishishini, ukuhombisa uphahla, ucingo, Indawo yokukhusela |
| 20 | OEM | Iiprofayili ze-aluminium ezenziwe ngokwezifiso ziyafumaneka |
The advantages of Changyuan Aluminum profile for frame:
The aluminum profile as a material for production and processing has the characteristics of hard texture, and it is not easy to deform under external force. It can play a good protection role when installed on the display. In this way, the LED display is in the process of transportation, installation and use. The risk of wastage will also be greatly reduced.
Of course, what many people know about the display frame is that it plays a role of fixing and protecting, but in fact, the frame can also be used to install the electronic circuit of the display pixel, so that the circuit of the display screen will not be exposed and will not occupy Superfluous places to maximize the use of space. In addition, the display circuit generates high heat during operation. If the heat is in a sealed space for a long time, it is easy to cause the circuit to be burned out, especially the display screen installed outdoors, and its living environment is even more worrying. The use of an aluminum alloy pfile frame can solve this problem well, help the display circuit to dissipate heat, and also absorb the heat from the screen to efficiently dissipate the heat into the air.
The other advantages also including as blow: 1. Aluminum profile frame are natural and beautiful, high surface finish. 2. Strong oxidation resistance and corrosion resistance. 3. The frame can be oxidized to different colors, and the surface can be sprayed at the same time. 4. Long service life and good stability.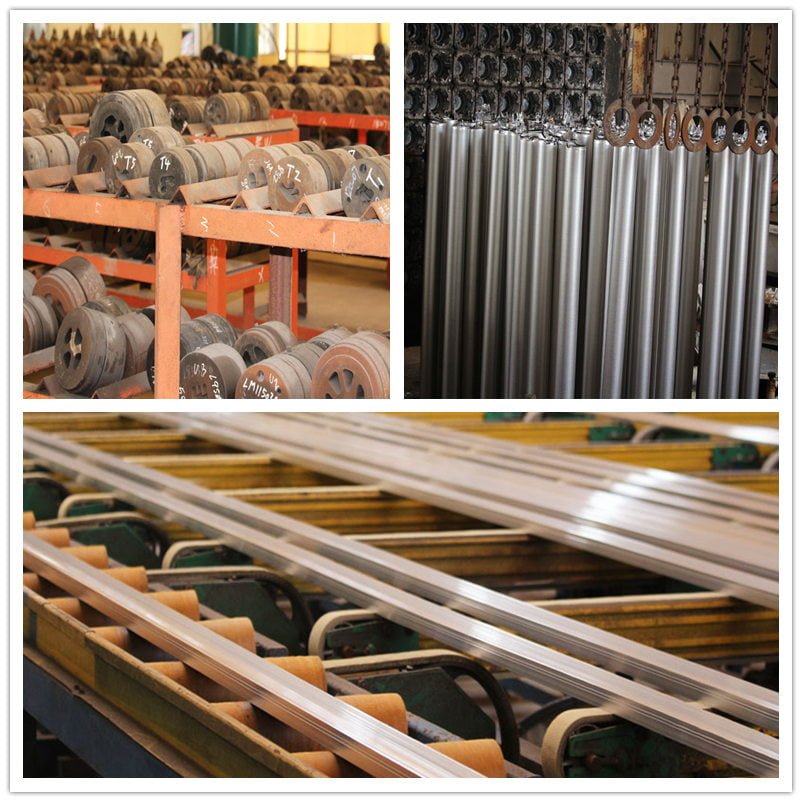 Ukusetyenziswa:
Solar panel frame, Led light frame, Screen frame, TV screen, UPS frame, electrical appliances, exhibition board.
Umgangatho:
Isiqinisekiso se-CE, I-SGS, I-ISO9001, Uqinisekiso lwe-ISO14001 kunye neRoHS

Zonke iimveliso zohlobo oluthile kufuneka zigqitywe 4 Ukutshekishwa kwayo yonke inkqubo:
Uvavanyo lwempahla eluhlaza

Ekuqhubekeni kuhlolwa

Uhlolo lokugqibela

Uhlolo oluphumayo
Why ChangYuan aluminum:
1). 20+ iminyaka kolu shishino
2). Two production base including anodizing, electrophoresis and powder coating workshop.
3). Total 11 aluminum extrusion machines.
4) Ngaphezulu 400 workers, best sale team and technical team help to make a plan for you.
F&Q
Q1: What is the hardness of your aluminum profile for the frame?
Normally, the hardness in 6063-T5 is 11-14HW.
Umbuzo: Can I visit your factory before I place an order ?
EWE, we are welcome our customers to visit our factory first.
Umbuzo: Ndingabeka iodolo yesampulu kuqala.
Of course yes!
Thumela umyalezo wakho kuthi: